Birthday for Wai Yee!
Yesterday was a horrible day, but meeting up with my old pals kinda compensated for it :-)
It was a surprise (and a tad early) birthday celebration. It was her XXth birthday, and Louise, her two colleagues (I can't remember their names, damn) and I met up at Tiong Bahru Plaza for some Ramen and, of course, birthday cake!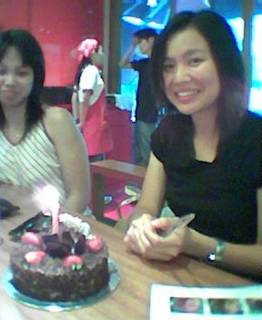 The birthday girl!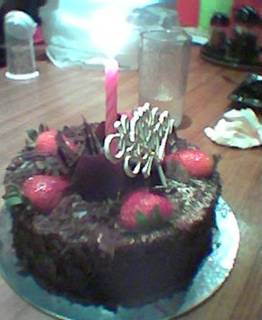 The birthday cake!
After dinner, we went for a movie. I am no fans for horror movie. We caught "Shutter", about this good looking Thai photographer who was haunted by the spirit of an ex-girlfriend.
I was kinda spared from the horrible images, because half the time I was hiding my face behind my fingers. Yeah, I am pussy when it comes to horror movie.
No horror movie. Yay to cartoons and comedy!